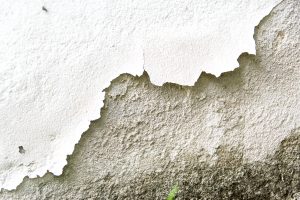 Moisture problems occur when excess moisture accumulates or becomes trapped in a part of a building or surface that normally should be dry. They can happen in just about any building, new or old, and usually occurs because of design oversights, construction errors or improper maintenance. Errors at any one of these stages can lead to moisture problems.
What Causes Moisture Problems?
There are many situations and factors that may contribute to moisture related problems in a home or business. Often, moisture problems are a result of improper building practices or overlooking areas that should have been tested for the presence of water or moisture before building began. The American Society of Heating, Refrigerating and Air Conditioning Engineers (ASHRAE) explains, "Moisture causes problems for building owners, maintenance personnel and occupants. Many common moisture problems can be traced to poor decisions in design, construction or maintenance. However, such problems can be avoided with techniques that are based on a solid understanding of how water behaves in buildings and in accurate moisture and humidity testing."
In the construction and building industry, various factors and actions can lead to eventual moisture problems including:
Building on a site that does not allow for proper drainage
Poor design of building enclosures and drainage systems
Not properly testing an area for the presence of moisture before building
Selection of moisture-sensitive building materials
Improperly installed building materials or equipment
Installation of wet or moisture-damaged building materials
Use of ineffective humidity controls
Inadequate maintenance of building equipment and materials
How Can You Detect and Avoid Moisture Problems?
The best way to avoid water damage and moisture related problems is to test an area for moisture before building or performing any construction related tasks. Knowledgeable and experienced contractors know that moisture testing is an important part of the construction process. If moisture is detected, it can be effectively dealt with and treated before the start of any project.
Accurate moisture tests should be performed before the start of any construction project. Moisture that remains within concrete, wood or any other surfaces can be a disaster to any building project. There are many effective tests that are designed to test for moisture on different materials and some methods are also designed to measure the levels of other substances beyond moisture and humidity. Before starting any construction project, contractors should consult with a moisture testing professional that can perform specific testing on the building site.
Advanced Moisture Testing provides high quality moisture testing services for contractors and builders throughout New York and the tristate area. They are certified by the ICRI (International Concrete Repair Institute) and can perform the proper moisture testing for any surface. If you are a builder planning a new construction project or a consumer concerned about the moisture levels in your home or place of business, call Advanced Moisture Testing for a consultation today at 631-567-9269 or 631-567-9314.